Best known for his role as Billy Hargrove in the series 'Stranger Things', or the character of Jason (The Red Ranger) in the 2017's Power Rangers reboot movie – this 26-year-old Australian actor is on his famous way up! He became famous as a world-class actor and film actor. However, the Australian actor is mainly known for his unusual fashion sense and his charming character. Rumors and gossip about his hairstyle are constantly a topic in celebrity magazines and tabloids ☺
Dacre Kayd Montgomery-Harvey looks great and has had many different haircuts in recent years. He also has a nice, wavy-curly natural set of hair, which is incredibly volatile.
Short comb over with a low fade, curly hair with a taper fade or a low fade faux hawk are some of the hairstyles you can inspire yourself from Dacre's list 😉
How to get Dacre Montgomery hairstyle
Short comb with a low fade – The short comb over with a low fade on the sides is a great blend of professionalism and modern style. The hair on top is only a couple inches long – just enough to create the combed-over look. To do it, use a medium-shine pomade or wax and a regular comb to gently coax hair into position. Finish with hairspray if needed to keep things in place all day.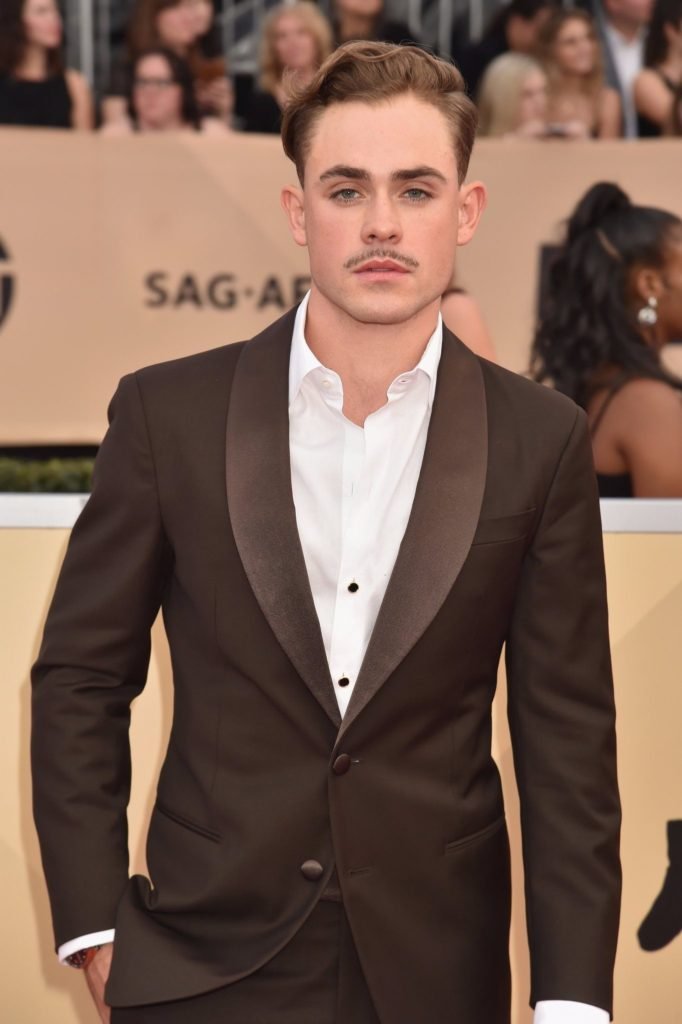 Curly hair taper fade – the curly hair fade is one of the best hairstyles for men with curly hair. If you view your curly hair as a curse, this taper fade haircut may just change your mind. With just 2 to 3 inches of length in the front and 1 inch or so in the back, this curly hairstyle is as easy as towel-drying your curls, applying some matte or low-shine curl-enhancing cream, and walking out the door.
Low fade faux hawk – Can't decide between a spiky faux hawk and a voluminous pompadour? This style allows you to have the best of both worlds.
Products to use
Natural hair enhancing cream
The Olive Oil infused in this hair cream provides curl quenching moisture and allows luminous shine to enhance every strand, while Vitamin B Complex increases your hair's strength and elasticity to promote healthy hair growth.
How to use it: – Shampoo and condition with the Natural Almond & Avocado Moisturizing & Detangling Sulfate Free Shampoo and Conditioner.
Apply a generous amount of the Natural Almond & Avocado Curl Enhancing Mousse to damp hair and comb through (mousse will disappear as it dries).
Allow hair to air dry or use a diffuser for added volume.
Proceed to lift hair at the roots, style as desired.
Hair care fiber wax
You can use this awesome fiber wax daily, and because of its unique benefits will be perfect for any volatile hairstyles you wanna try. It'll nourish, thicken, texture and condition your natural mane.
Great for all hair types, it has an all-day strong pliable hold. Does not flake or leave residue. Must try!
Also, if you are looking for more famous hairstyle check our category in the blog.