We all know that there's no change in how mother nature designed us.
Sometimes, being short feels like a disability. Like you can't get the job, can't get the girl, and it brings havoc on your self-confidence.
BUT! It doesn't have to feel that way, and there are some things that you, as vertically challenged men, can do to appear and look taller.
See below some tricks and tips that work for everybody, no matter the height. These tips work universally. Think of them as style mirrors. Illusions we are trying to create for you to appear taller, slimmer, longer.
Let's work some magic 😉
Tip no.1 – Choose the right pants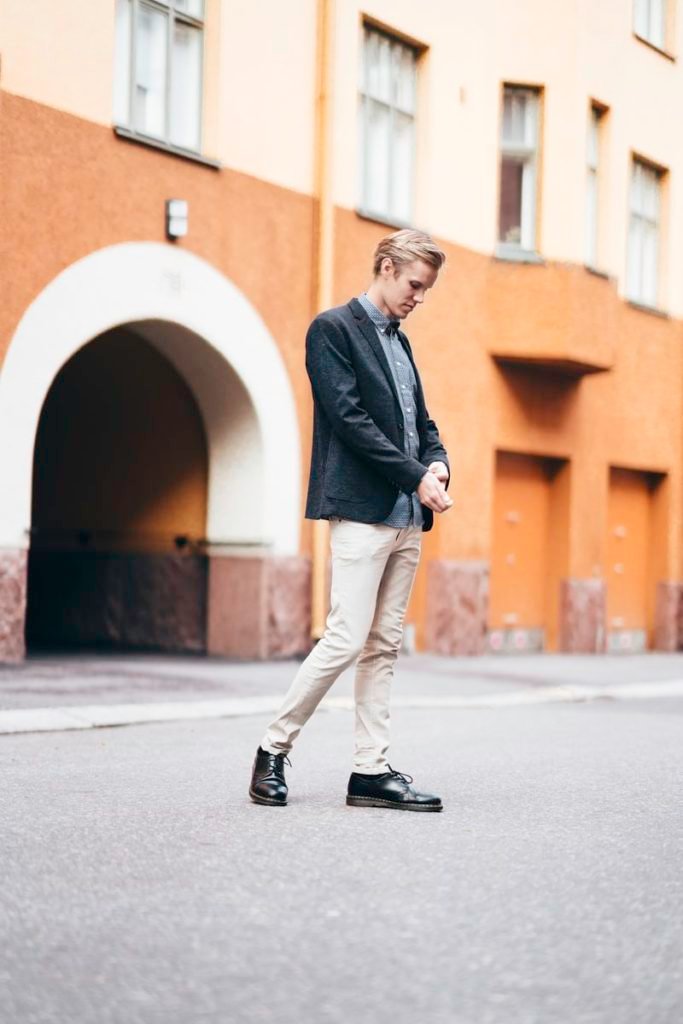 Every time you go out shopping for clothes, try them! Try every last one to make sure you have the right ones. If you're short, you might want to avoid the following:
NO big pants
NO baggy pants
NO long pants
NO too-many-pockets pants
Also, the length. You need the perfect pant length. That's why trying every pair is super important. Too much extra fabric will also make you look shorter. Try the slim fit.
No matter the type of pants you wear – sport, casual, elegant, business – remember these tips if you want to appear taller: perfect length, no big, baggy, too much extra fabric pants.
Tip no.2 – Choose the right shoes
To appear taller, you need to create a visual streamline from your neck right down to your toe! Therefore, you'll need a shoe that has an elongated toe box.
Something simple, something slick, something clean. If it's an elegant shoe, a bit of heel won't hurt. If it's a sporty or casual shoe, use the same principle. Easy as that!
You can also start wearing boots. Boots are a great alternative nowadays, for their multiple uses. Put them in your wardrobe because they add height, they are stylish and can be worn to many different occasions.
Tip no.3 – Choose the right shirts
It's all about the shirt selection. Like we said for the pants, the same goes for shirts: try them on!
Important tip: avoid long shirts. That's why you need to try them on and find the exact perfect length. A shirt too long will make your lower body appear lower so… wear a shirt that is short enough!
The principle goes for T-shirts, sweaters, jumpers, and any kind of shirt that goes on your upper body. It needs to be short enough and have the perfect length for you.
Fitter shirts are the best option to make you look taller and slimmer.
Also, high waist buttons can help. Make a V on your suit. Usually, keep the V in the middle, but higher is also good, and it will create a good slimmer illusion. Opt for 3-button jackets; they are the trick.
Tip no. 4 – Choose the right colors
Go dark. Bring out the bad boy in you 😉
Or darker with your color selection. We all know black makes you look thinner. Well, it also makes you appear taller and slimmer. That doesn't mean you always have to dress in black. Just less bright colors. Basically, you can still use all the dark shades of any color.
Color shades you can use navy, dark charcoal, dark brown, grey.
Tip no. 5 – Choose the right patterns
We all like a nice pattern now and then. Can't always wear straight, uni-colored clothes.
But if you're looking for the right patterns to create the right elongating illusion, try this:
Avoid: big, colorful, square-shaped, flowery or any kind of drawing – patterns.
Choose smaller, subtle, maybe simple vertical lines – patterns.
So if you are into patterns and are looking to elongate the illusion that is your physique, try the ones above. A beautiful, vertically-thin-striped shirt can look very nice with a dark blue suit. Elegant and taller. How about that?
Tip no. 6 – Choose the right hairstyle
Yes, you can also give your hair a little height. There are many different types of hairstyles, even for men. You can make your hair a little bit bigger, in order to appear taller. It makes sense to give it a little pop! 
Idea: Visit a beauty salon first. Tell them what you want and see what they do, so you can do it yourself next time. Letting a professional teach you what looks best is a great start!
But: an issue is to make it last throughout the day. To not fall flat because of humidity or other external factors. To no "let you down" in the middle of a meeting or a date!
That's why visiting a salon and learning about the perfect hair products, is the best idea ever. They will definitely know what makes your hair stand up tall, clean, and neat all day long.
Tip no. 7 – Choose to wear a hat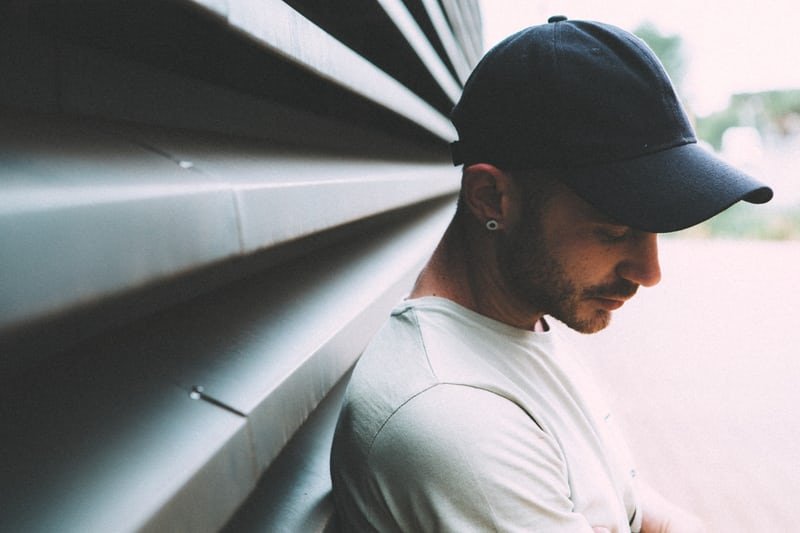 Yes, a hat is an accessory that can make you look taller. If it matches the rest of the outfit, of course.
There are so many different types of hats, and you'll definitely find one for every outfit, every day of the week. It doesn't seem too much, does it? 😉
Types of hats you can use: the classic flat cap, the baseball cap, the Panama hat, the Fedora hat.
And the list goes on, just check them out online. You can choose the hats after you have set your personal clothing style that best fits to make you look taller.
Tip no. 8 – Choose to have a good posture
Gentlemen, stand up straight and be confident! Keep your back straight, your head held high and your good attitude on. Simple as that. 
So there you have it, eight simple tips and tricks to create the illusion you are taller. Hopefully, they will help you. They are easy to do, and even if you don't actually need it, it's good to know it.
Remember: being short is not a disability, and it doesn't give you an excuse to lack self-confidence! It doesn't have to hold you back from anything you want to do.
The only thing that will hold you back is your bad attitude!